Des you asked several questions, so I will try and answer them with the knowledge I have. The torpedo on the starboard side is indeed a real torpedo – if it were released it would go "whizz" and act like a real torpedo but if it hit anything it would not go "bang". Ie it is what we call a practice weapon, so it looks, weighs etc just like a warshot would. In the views the torpedo on the port side was masked, but it was fitted and the next two views from the same sequence of photos show that. You ask if at least two would be carried – probably YES for equalisation of weight, but not necessarily.
You ask about A/S Seakings carrying up to four torpedoes. YES is the answer, or four depth charges or a combination of DCs and fish. There are four weapons points on a Seaking. The photo below which is taken from the reference book I will quote at the end of this post, is of Seaking HAS 1 of 826 Squadron releasing (naval speak is jettisoning) four Mk44 torpedoes simultaneously off of Portland during tests.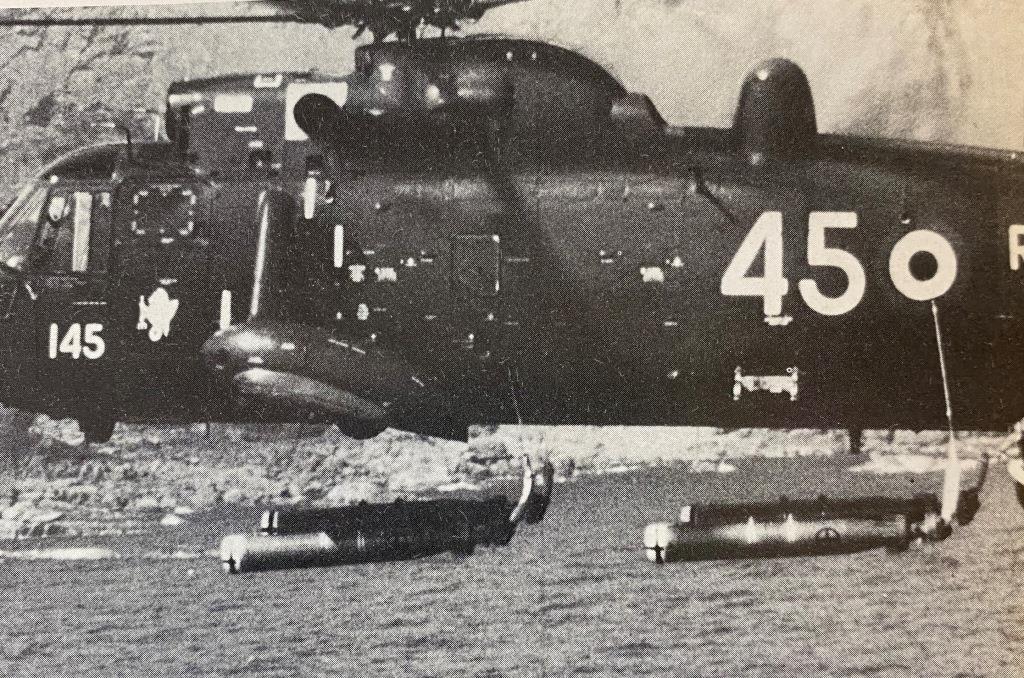 You ask if the Seaking would need electronic support if sub hunting. The answer is NO, the ASW version was fitted with all sorts of equipment to detect, hunt, and prosecute submarines. These include dipping sonar Plessy 195 or Bendix AN/AQS13B or later the Bendix AN/AQS18. They were also fitted with MAD (Magnetic anomaly detector) – Texas Instruments AN/ASQ81, and also LAPADS – lightweight acoustic processing and display systems, and sonobuoys in racks which could be dropped individually or in patterns. They also carried smoke & flame markers. Many years ago in the Med I went up in a ASW Seaking during an anti-submarine exercise and was gobsmacked at how quickly they found the sub, an SSN – and I was allowed to throw the S&M marker in the water when we were "on top" to let the sub know we had "got him".
However the Seaking in the photos was NOT an ASW version (HAS) but a Rescue version (HAR) and thus not fitted with all that "kit" as mentioned and the role it was on was NOT sub-hunting.
An excellent reference for everything Seaking is "Westand Seaking Modern Combat Aircraft 18" by John Chartres produced by Ian Allan. It relates the story of the Seaking from its origins in USN service through to the introduction of its replacement – the Merlin. ISBN 0-7110-1394-2