My first photos of SSP Peaches and Panache items
Posted by Bryan
on September 18, 2023, 9:08 pm
I went to my first convention and was absolutely definite, NO EXTRA OUTFITS beyond the convention package! Of course after seeing these wonderful outfits in person, to touch the luxurious fabrics, and to watch my willpower dissolve nearly instantaneously, I broke my vow!

The centerpiece outfit on Monday was WALLIS, the tailored blue and black plaid suit designed by Mainbocher for Wallis Simpson. Wasn't I lucky that my number was called! A spur of the moment decision, and Wallis was mine. Literally since I was able to bring it home with me.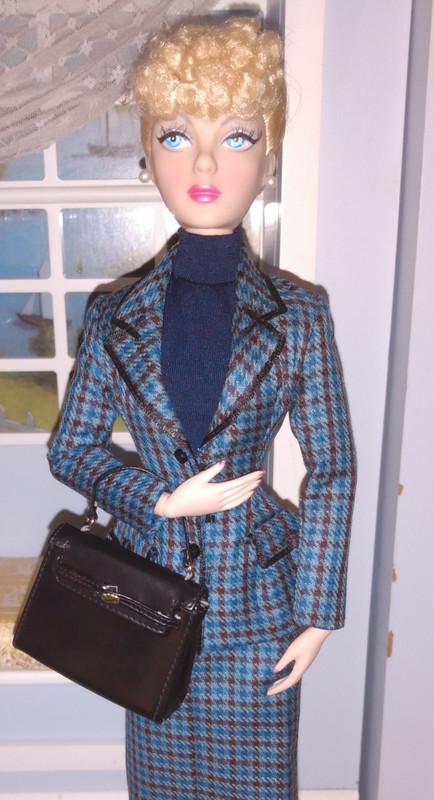 Here she is, and I think she is lovely. The plaid fabric feels like the softest of wools. She was supposed to have black bead earrings, but I think they were left on the centerpiece by accident. No matter, pearls are always appropriate!

On the ballroom floor was one of the other additional outfits - a Red, White and Blue version of the same suit called Windsor. I hemmed and hawed over it, but in the end decided against it, although my name did go on a number of different outfits, which I will share with you as they come in.

I got home and then Sandra sent out the order sheets for us that she forgot to give out at the convention. Here I was looking it over and the last thing on the list was Windsor....my last chance, and I checked it off! Is there really such a thing as willpower??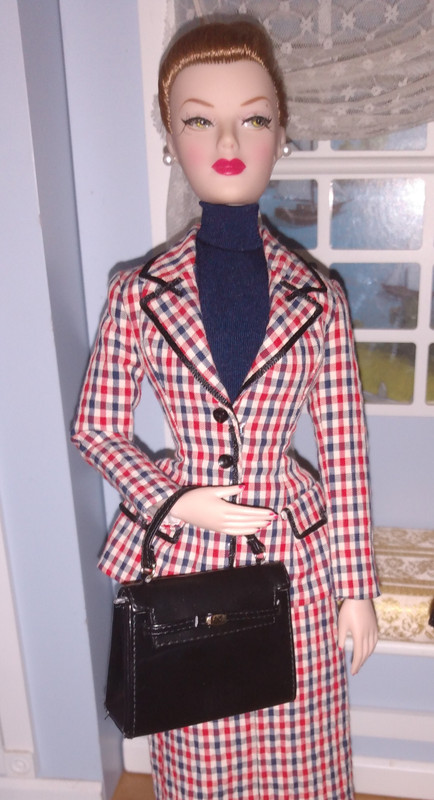 Here is Madra in her summer seersucker checkered suit in Red, White and blue. I had a matching purse already, so I added it to complete the duplicate look. She already came with the pearl earrings.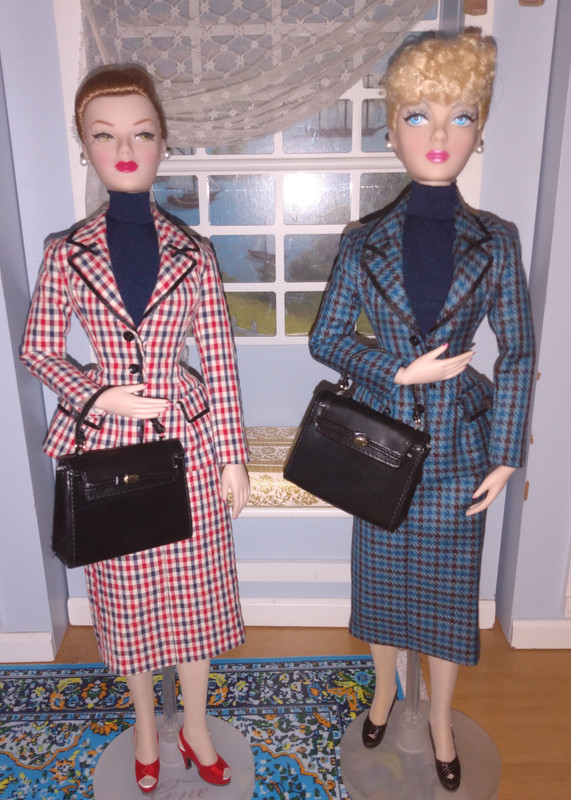 And here they are together.
Of course, I blame Kay! She loves having outfits in different color ways - I have made several for her. I guess she is rubbing off on me because I love them too! Thank you, Kay!
---
Bryan in Florida
aka periodsoftime on Ebay
bryanphopper@aol.com

---