Having recently done some website browsing for perhaps interesting photos, I found two of Type 42s so I include them here as maybe Kelvin who is renowned as the expert in this class can throw some light on them.
incidentally also as Kelvin is pushing manufacturers such as Albatros and Arrowhead to produce the missing variations of the Type 42 class, maybe he might like to add these two as well to the list.
Sometimes when you look at a photo you do not see everything that is in view, and sometimes you miss something obvious perhaps as it is not what you expect.
The first view below is of HMS CARDIFF which many believe is the famous Type 42 from the Falklands Conflict for reasons other than being sunk as in Sheffield & Coventry. She shot down the last Argentinian aircraft in the conflict period and took the surrender of the last garrison at settlement Port Howard. After the Falklands it is well known that the Type 42s had their boats removed and replaced by small platforms and supports for two twin 30mm guns amidships and two 20mm guns aft. The 30mm were later replaced by Phalanx. In the photo below though, something else is happening, - I do not have the date but Phalanx is fitted - so perhaps Kelvin can help. I am not sure but after being in the Gulf in 1990 she returned to UK and then very shortly afterwards returned to the Gulf as part of Group X-Ray with Brazen, London and Gloucester. They were to be the screen for 3 x USN carriers Midway, Ranger and Theodore Roosevelt. But also HMS CARDIFF had an extra task of surface surveillance and in boarding operations to maintain security around the task force.
The next photo is of HMS GLASGOW D88 (which the caption on one source says is 1992, but on another says it is 1983). So maybe Kelvin can help again here, she also has a Falklands Conflict connection (in this 40th commemorative year) as being one of the first Type 42s to arrive in the TEZ. She also survived a bombing attack by A4s but limped home to be repaired at Portsmouth. She returned to the Falklands in August 1982. The photo I believe is correct in being dated 19.5.83 but while she was in the Med on Exercise Distant Drum. But what is unclear is that although she has a Union Jack on her bridge top, the boats have been removed, the 30mm and 20mm platforms are fitted, but NO GUNS. She still has the older double 965 radar. Incidentally the photo depicts the original Type 42 deck markings with broad white lines/circles and larger deck letters. The Lynx helicopter is at "Alert 30" which is with rotors spread but ranged forward of the "spot" so that checks can be made of the tail rotor.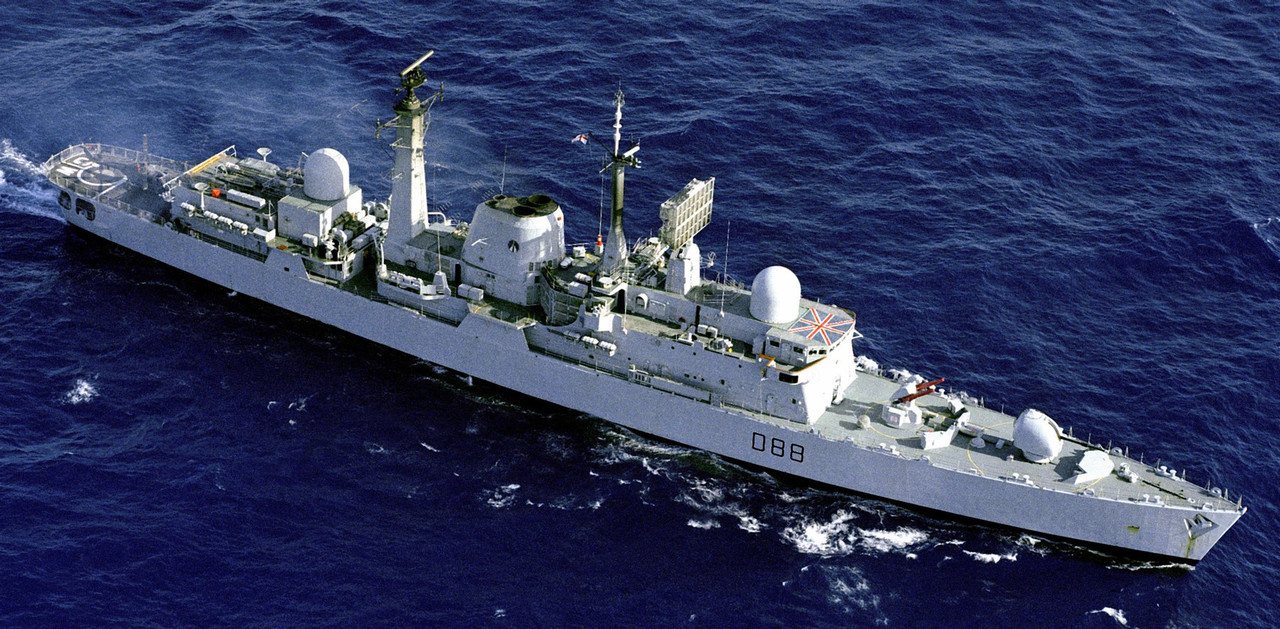 I wonder if the next HMS Glasgow would get away with having a Union Jack on her bridge!!