Seasons greetings to everyone.
Roger very kindly sent me one of his Hindenburg prints to play with. I've had a few days to work on it over the holiday and this is the unfinished Mark 1 attempt. Sorry about the dodgy photo. It's as dark as a black cow's nostril today.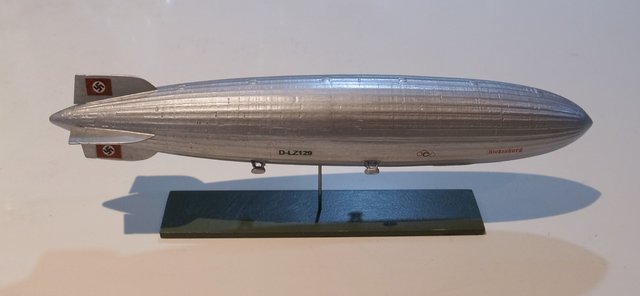 I'm not at all satisfied and will be re-working the model over the next few days. The material used has been relatively easy to clean up but the mooring mast had too many "strings" and defeated my best efforts. I've reverted to my usual airship stand design.
The tail swastikas are far too dark. I'll improve my DIY decal sheet and try again. The motor cars need to be painted white (or possibly light grey?) and I have to make some props.
The model will also require a final coat of lacquer to smooth everything out and blend in the decals. I'll probably go for a satin finish.
So far, everything is looking good for Roger's first serious attempt at 3D printing. I think we can look forward to some really interesting stuff from Coastlines during 2022.
Cheers
John